Panasonic On Lah Campaign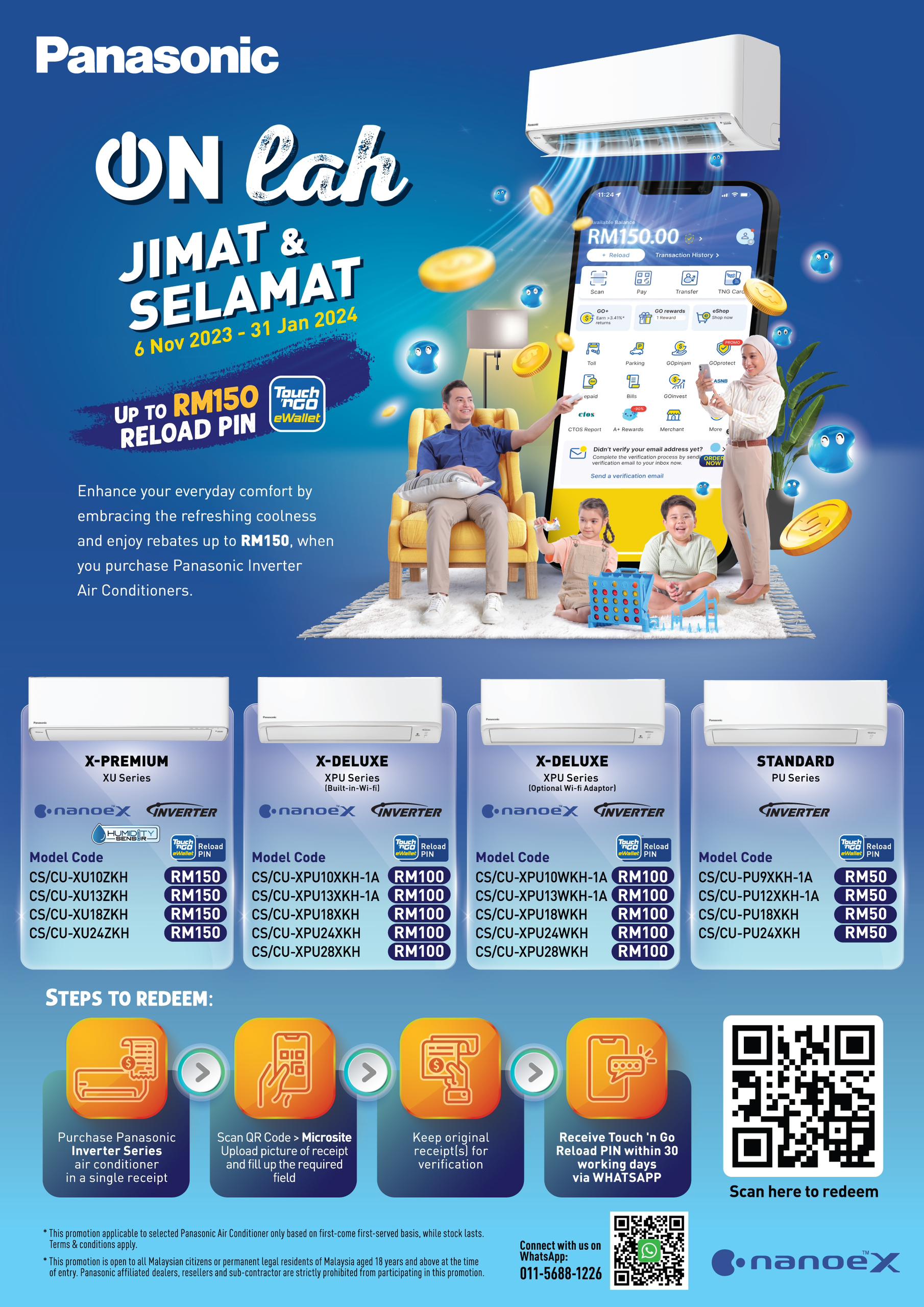 Attention ⚠️ 🚨
Attach herewith
On Lah Jimat & Selamat" TnG Rebate Consumer Campaign (RAC)
Sell-out Promotion, running from 6th -11-2023 until 31st-1-2024 .
During the promotional period, customers who purchase selected Panasonic Inverter Air Conditioner models are eligible to redeem e-wallet from Touch 'n Go with value of RM50, 100 or RM150.
注意⚠️🚨
随函附上
On Lah Jimat & Selamat"TnG 回扣消费者活动 (RAC)
售完促销,从2023年11月6日至2024年1月31日。
促销期间,购买指定 Panasonic 变频空调型号的客户有资格 从 Touch 'n Go 兑换价值 RM50、100 或 RM150 的电子钱包.
Term & Conditions:
1. Eligibility: The "On Lah Jimat & Selamat TnG" Rebate Campaign is open to End User only.
2. Participants qualifications: Must be Malaysian or Permanent Residents who are 18 years old and above.
3. Exclusions: Business Partners, Resellers, Installers, or Subcontractors are PROHIBITED from participating.
4. Submission deadline: End User must submit their entries within the campaign period, on "First Come, First Serve & While Stock
Last" basis.
5. Invoice / Receipt submission: Handwritten invoices or receipts are NOT ACCEPTED.
6. Third-party submission: Submissions on behalf of End Users are NOT ALLOWED.
7. Submission limit: Maximum 10 units submission per user for the entire campaign (track by name & phone number).
8. Exclusions: All Project Net Price and Duty-Free billing is NOT ENTITLED for this campaign.
9. Any other conditions not stated above are subjected to the sole discretion of PACMY.