DAIKIN FDMC50A/RC50B NON INVERTER CEILING CONCEAL R32 + WIRED CONTROL
Product Features
-Utilizes high performance compressors to achieve higher specification. R32 refrigerant properties boost the capacity and efficiency of units for selected models to achieve full tonnage.
-New blow through system platform allows for lower height of ceiling concealed unit and more quiet operation.
-New Ceiling Concealed platform with blow through operation provides uniform air distribution and quiet operation.
-One of the industry's most compact unit in the middle static pressure range with as low as 250mm height across all models. New Ceiling Concealed is able to fit into ceiling height as low as 260mm.
-Designed for easy accessibility to drain pan, heat exchanger coil, blower and motor.
-Comes with standard blue fin outdoor unit's heat exchanger which are processed using a special anti-corrosion treatment. The surface is covered with a thin acrylic resin layer to enhance the fins' resistance to salt corrosion. Higher Corrosion Resistance Gold Fin is available (Optional)
Cash & Carry
- Cash Price/Bank transfer/Tng
- Free Delivery(Penang, Kulim, Lunas)
Retail Price
- Cash/Bank transfer/Tng/Credit Card Public Bank 0% Installment Plan/ Hong Leong 0% Installment Plan/ CIMB 0% Installment Plan
- Free Delivery(Penang, Kulim, Lunas) + Free 3 months free storage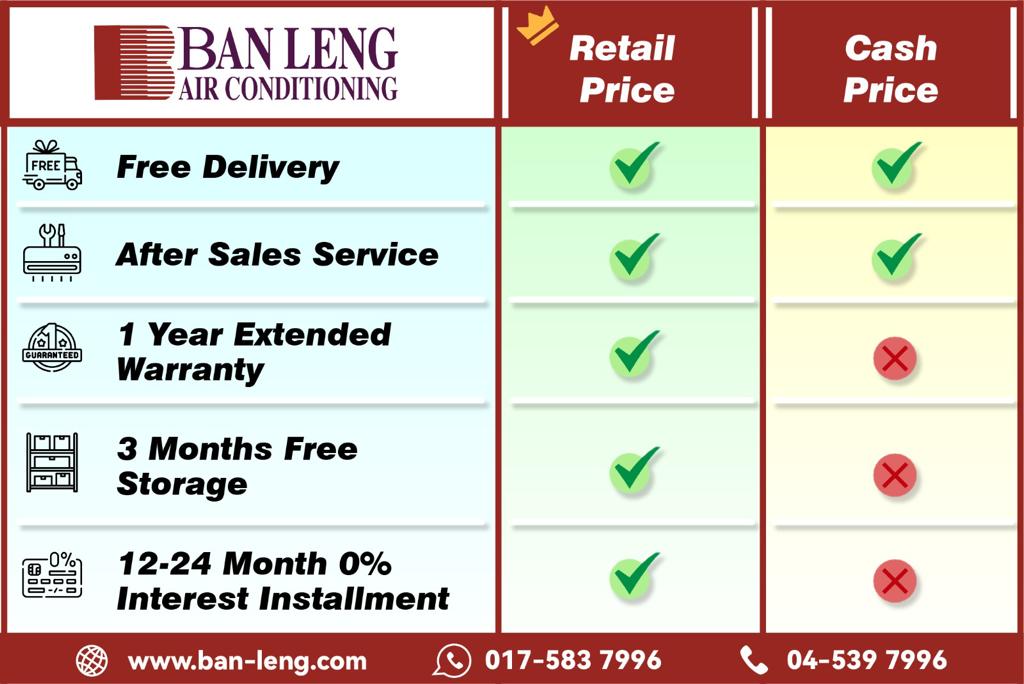 ---